If you look at your Facebook page today, odds are it will look different than it did last week. That's because Facebook has moved all business pages to the Timeline design that many people already use on their personal Facebook pages.
This new design—which has been optional since December but became mandatory on March 30—means you will be able to add a cover photo to your Facebook page, have a profile picture, and add apps and milestones. It also means the way updates, photos and videos display on your Wall will be completely different. Changes take effect whether your page is ready or not, which means you may have some work to do to ensure your page is ready for prime viewing.
Remember, Facebook has more than 845 million users, so having an attractive Facebook business page can be good for business.
"A simple Facebook post could trigger a customer to remember that they needed to buy a birthday gift that day and to go to your site," marketing writer Jenny Fuller reminds us. "People feel more comfortable buying from businesses they have a connection to, and Facebook helps businesses seem more humanized and relational, which triggers a sense of trust in a consumer."
Sounds like a Facebook page may be very important indeed, doesn't it? Read on to see what you can expect with the new design and what new features Facebook has in store with the changes.
"Your cover photo should be a unique photo that expresses your business or organization, and interests people visiting your page"
The importance of a Facebook page
Facebook pages are essential for businesses to connect with fans and customers, share news and get feedback, Fuller tells us.
They help "keep your brand or business 'top of mind' for their customers," she says. "You don't want your customers or fans to forget about you."
As active Facebook users ourselves, when The Online Seller heard the changes were coming, we decided to get our Facebook page ready. The first thing we did to optimize our page was click the Preview button in the upper right corner of our business page to see what our Facebook page would look like after the change.
Right away, we noticed the addition of a cover photo. It's now the first thing visitors to your Facebook page see. With the changes, the default "Like us" is gone—a change that has some business page owners upset, notes social media expert Mari Smith.
However, "you may find that you care less and less about a default landing tab with this piece of prime real estate that is always visible to fans and non-fans as they land on your page," she says of the new cover photo.
The large image appears at the top of your page, above your profile photo, adds Yvonne Chen, a product marketing manager at Facebook.
Here's what our new Facebook page looks like: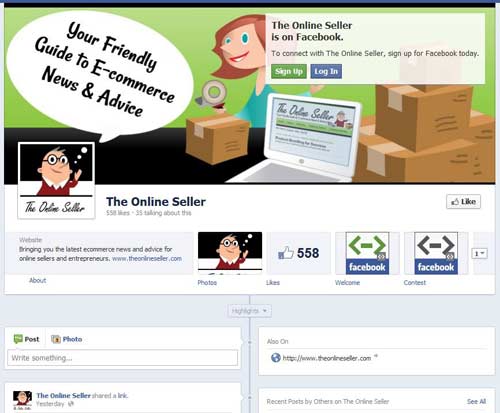 As you can see, the photo gives your page immediate visual impact. That's why "your cover photo should be a unique photo that expresses your business or organization, and interests people [visiting] your page," Chen says.
Cover photos should be 851 pixels by 315 pixels, but don't worry if the image you want to use is not this size, Facebook will automatically resize it to fit when you upload it.
And though this image is prime real estate on your page, you'll need to be aware of the photo guidelines that come with it before you add an image. (See Facebook's Pages Product Guide for details). You'll want to note, for instance, that Facebook does not allow promotions, coupons or ads here. You can't add contact information, or phrases such as "like" or "share," either.
Finding the right cover art
Make sure your cover photo is not pixelated, and that the image represents who and what you are about
We know that it may seem overwhelming to decide on a cover photo, so as you're deciding on an image, start by first deciding how you want visitors to see you and your brand, advises Amber Miller, a graphic designer of more than 19 years and the creator of our The Online Seller illustrations.
For instance, do you want visitors to see you and your business as professional? If so, a photo of your products might be the way to go. If you want to take a less formal approach, you could have a photo of someone using your products and having a ball. You can also browse sites that offer free photos to see if one of those images may be the right art for your new page. Just make sure that whatever image you use, your images are clear and crisp, Miller adds.
"Even if your image is hand drawn, make sure it is scanned with a good scanner," she says. "Make sure the photo is not pixelated, and make sure the image represents who and what you are about."
She adds that images should be inviting and interesting so visitors will want to hang around and come back to your page frequently.
Here are a few examples of Facebook page Timelines for inspiration, courtesy of Econsultancy.
Profiles and apps
Now let's talk profiles and apps. Facebook gives you a second image to post, a smaller profile photo that will appear on the bottom left of your cover photo. This is your profile photo. If you didn't update your business page before March 30, this photo will be the image your business page currently displays, Chen notes.
It will be automatically reduced and added. The same isn't true of your cover photo. You'll have to add it on your own.
Your profile picture will be an image that represents your business throughout Facebook, Chen continues. "We recommend using a logo or something strongly associated with your brand that is easily recognizable," she adds.
The photo will appear in news feeds and when you post on others' pages. Though you can update this photo at any time, you should fight the urge. A consistent image will help you build your brand.
Now for those apps we mentioned. You can have up to 12 of these. They appear below your cover photo and profile picture, and they can be links to your YouTube channel, your Twitter account, even a news feed you may want to add.
"These are great areas to get creative and add seamless branding, calls to action and specials," Smith notes.
A more personal connection?
"The new Facebook pages help you provide a more relevant experience for each person who visits your page"
Facebook adds that with its new design, business pages will be more engaging. For instance, users can pin posts on their Walls. That's right, pinning is not just for Pinterest anymore. Pinned posts will appear on the top of your Facebook page for up to seven days, explains Jeff Kanter of Facebook's Product Team in a video about the upcoming Facebook Timeline changes.
"This is a great way to highlight the most important piece of content, so it's the first thing people see when they visit your page," he says.
You can also "star" posts to make them appear bigger on your Wall and help them stand out. These posts will be the width of your page. This feature is meant to highlight events; however, you can make these regular posts by un-starring them when you choose.
"The new Facebook pages help you provide a more relevant experience for each person who visits your page," Kanter continues.
For instance, visitors can see if any of their Facebook friends have liked, visited or posted on your business page. Seeing friends who have interacted with your page makes visitors feel more connected to your business, according to Chen.
"People have a more personal experience on your page when they see how their friends are engaging," Kanter adds.
Milestones and messaging
Finally, with the changes, Facebook lets you create milestones for your business. These are a "new type of story to celebrate and emphasize important moments over time," Kanter continues.
Milestones can include a new product that you've just added to your store, or important times in your selling history. Maybe you're celebrating your fifth year of selling online and want all your Facebook visitors to know. You should. Remember, social networking is about building a community and sharing information about yourself with those who stop by.
You'll also notice that, with the Timelines, people can privately message your Facebook page instead of having to write on your Wall.
Some things never change
The changes may seem overwhelming, but Facebook pages will continue to be what they always were, Facebook officials note. They'll continue to be ways for customers and fans to interact with the brands they know and love. And interacting with visitors will still be what brings your page success.
So continue to share updates, questions, photos, links and other content on your page regularly, Facebook advises. "Post at least a few times a week so people who like you see your stories in their news feeds and visitors to your page always see something new," it notes.
We hope we have you intrigued enough to start playing around with your Facebook page, if you haven't already. When you've put your new business page together, let us know. We'd love to see what you've come up with.