Let's get radical! Let's do something crazy! Let's face it, you've read all the articles about clearing the piles on your desk, the files on the floor and getting organized. Have they helped, or does your desk still look like mine?
That's what I thought. So let's try something different.
Any fans of the TV series "Clean Sweep"? I have watched it occasionally and enjoyed some parts of it. I guess what I like best is the idea of taking everything out of a room, closet, or even a whole house, and re-evaluating what needs to be there, and where it needs to go.
I know most of us aren't going to move the contents of our entire house out into the driveway, but we can use the method on our desks.
Now don't panic. You will like the results. Let's try the clean sweep method, starting with just the junk on our desks.
6 steps to refresh your workspace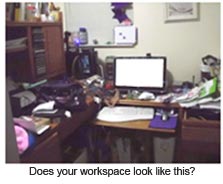 Find a big box to put paperwork in.

"Clean sweep" that desk. All paperwork and files go into the box. All equipment except the hard drive, monitor and keyboard are removed to the floor.

Clean that desk. Mine is made of oak, so I use good Old English, but use whatever you need to get it clean and smelling nicely.

Recreate your workspace. Is your monitor really where you want it? Do you need to rearrange the cords to make it easier to get to your equipment? Make sure the things you use daily are easy to reach. Replace the printers, scanner, scale and other equipment, carefully and thoughtfully. Place each item where it is easy to use and not in your way.

And if you don't use an item daily, really consider if it could be stored somewhere other than your desk. Your desk is your launching pad, your command and control center for your business. It should be organized to suit you.

Decorate. Do you like candles or room fresheners? Maybe one or two small pictures of your family? Tissue in a pretty box? A decorative calendar in your taste? Your desk is where you'll be spending a lot of time. Make it a pleasant place to be.

Now it's time to deal with the paperwork in that box. There are many filing systems out there, and I'll leave you to find the one that works for you. However, these four files should be within easy reach at all times: "To File," "To Call," "To Read" and "Waiting On." Perhaps just a small accordion file for each of these—a pretty one—could be on your desk daily. Put it away under the desk each night so that a "clean sweep desk" welcomes you to work every morning.
Hey, one can dream, right?